*UPDATE* Day tickets / day line ups
21.02.2022
There are two important changes in the daily running orders for SUMMER BREEZE Open Air 2022: BLIND GUARDIAN will now play on Saturday, August 20, while WITHIN TEMPTATION will rock the stage on Friday, August 19.
If you bought day tickets because of one of these bands, you can exchange or return them without any problems if you don't have time on the new days.
Just send an email to shop@summer-breeze.de and our store team will take care of it.

---
Print@home tickets are available for Wednesday for the price of €69,90, Thursday, Friday and Saturday for the price of €79,90. Find the tickets in our shop HERE. Plus: each day there's going to be a limited number of one-day tickets available at the festival box office, valid only for the same day.
The festival box office opens at 10:00 a.m. every day and is open until 10:00 p.m. From 10:00 p.m. 'til midnight you can buy the tickets at the vehicle control on Black Earth. The day parking lot is just opposite the entrance to the camp site and is signposted. Parking is not included in the ticket price. Camping is not allowed for one-day ticket holders.

Parking information for one-day ticket holders:
Please follow the sign to "Tagesparkplatz / Day parking lot"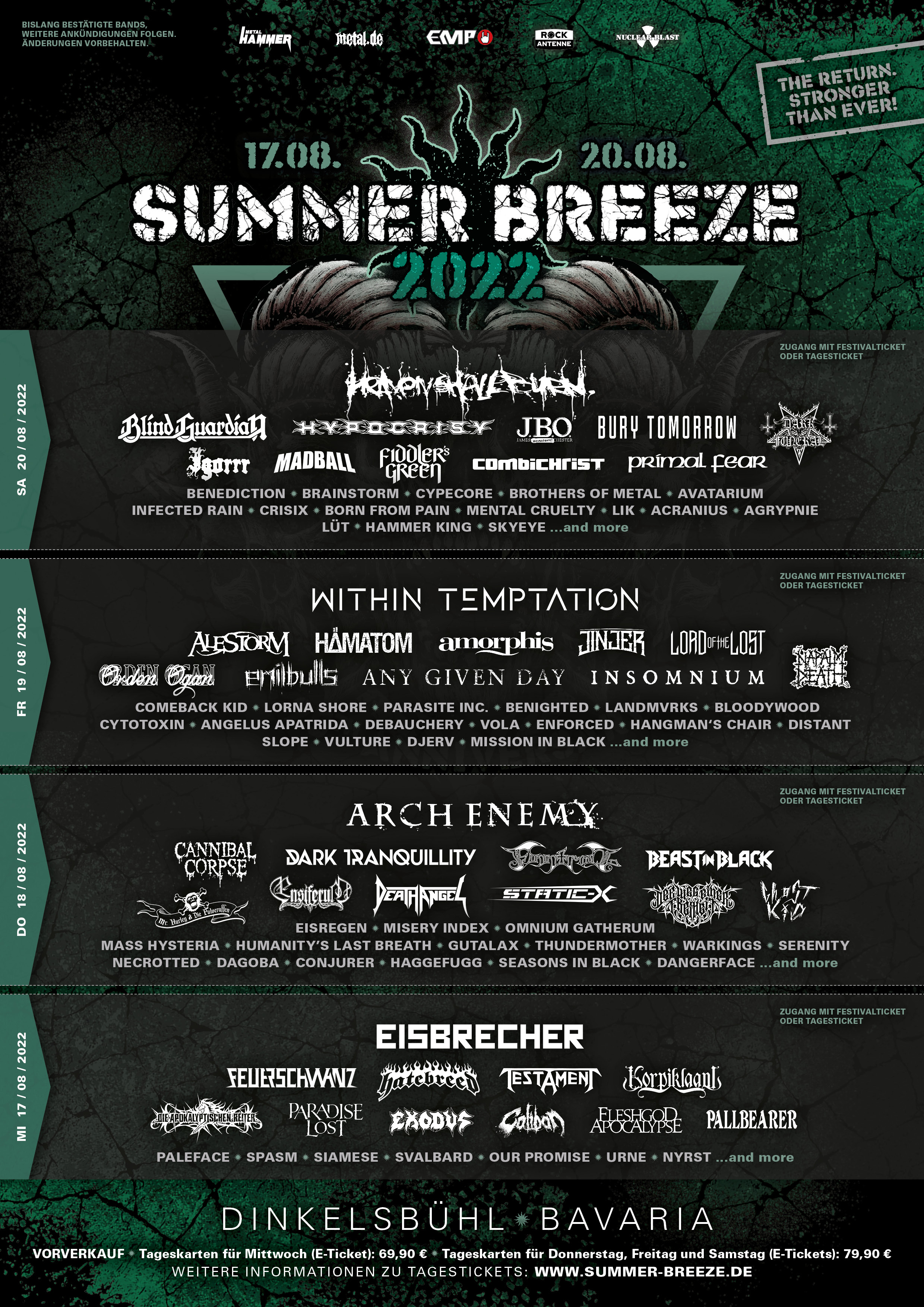 Confirmed bands – more to follow:
SATURDAY, August 20th – Access with a festival ticket or the day ticket
HEAVEN SHALL BURN
BLIND GUARDIAN
HYPOCRISY
J.B.O.
BURY TOMORROW
DARK FUNERAL
IGORRR
MADBALL
FIDDLER'S GREEN
COMBICHRIST
PRIMAL FEAR
BENEDICTION
BRAINSTORM
CYPECORE
BROTHERS OF METAL
AVATARIUM
INFECTED RAIN
CRISIX
BORN FROM PAIN
MENTAL CRUELTY
LIK
ACRANIUS
AGRYPNIE
LÜT
HAMMER KING
SKYEYE
FRIDAY, August 19th – Access with a festival ticket or the day ticket
WITHIN TEMPTATION
ALESTORM
HÄMATOM
AMORPHIS
JINJER
LORD OF THE LOST
ORDEN OGAN
EMIL BULLS
ANY GIVEN DAY
NAPALM DEATH
INSOMNIUM
COMEBACK KID
LORNA SHORE
PARASITE INC.
BENIGHTED
LANDMVRKS
BLOODYWOOD
CYTOTOXIN
ANGELUS APATRIDA
DEBAUCHERY
VOLA
ENFORCED
HANGMAN'S CHAIR
DISTANT
SLOPE
VULTURE
DJERV
MISSION IN BLACK
THURSDAY, August 18th – Access with a festival ticket or the day ticket
ARCH ENEMY
CANNIBAL CORPSE
DARK TRANQUILLITY
FINNTROLL
BEAST IN BLACK
MR. HURLEY & DIE PULVERAFFEN
ENSIFERUM
DEATH ANGEL
STATIC-X
GHØSTKID
DER WEG EINER FREIHEIT
EISREGEN
MISERY INDEX
OMNIUM GATHERUM
MASS HYSTERIA
HUMANITY'S LAST BREATH
GUTALAX
THUNDERMOTHER
WARKINGS
SERENITY
NECROTTED
DAGOBA
CONJURER
HAGGEFUGG
SEASONS IN BLACK
DANGERFACE
WEDNESDAY, August 17th – Access with a festival ticket or the day ticket
EISBRECHER
FEUERSCHWANZ
HATEBREED
TESTAMENT
KORPIKLAANI
DIE APOKALYPTISCHEN REITER
PARADISE LOST
CALIBAN
EXODUS
FLESHGOD APOCALYPSE
PALLBEARER
PALEFACE
SPASM
SIAMESE
SVALBARD
OUR PROMISE
URNE
NYRST
TUESDAY, August 16th – Access only with a festival ticket
Bands to be announced
*Subject to change