Attention
VIDEO AND AUDIO RECORDING
By entering the festival site, all attendees agree to be filmed or recorded and that this material may be published at a later time.
CAMPING / PARKING / CAMPING EQUIPMENT / CARS
ATTENTION: This post may contain details for the 2022 festival, an update for 2023 will follow.
Regular camping is included in the festival ticket price.
Add-Ons like reserved camping, comfort camping, caravan camping and handicapped camping are available in our shop.
There will be enough parking and camping space available. You may park your car right next to your tent. Camping is not permitted without the purchase of a festival ticket. Therefore, please make use of the official parking and camping areas.
The daily parking area can be found just across the street of the campsite entrance. You may also park your car in that area while camping on the campsite separately, but wish to make sure you can move your car at any time.
Only vehicles with a weight not exceeding 3.5 tons will have access to the campground. This also applies to caravans and mobile homes. Trailers which can only be towed by a tractor or lorry will not be allowed on the campsite. The same goes for tractors and generally all motorized two wheel vehicles as well as quad bikes and trikes.
GAS CYLINDERS:
Trailers and campers shall not bring gas cylinders exceeding 11kg. Please make sure your equipment is in good working condition and that you use it in an appropriate way. Any misuse may have fatal consequences. We believe this needs no further explanation.
GENERATORS:
If you plan on taking a generator with you onto the site, please make sure it is in good working condition and that it is not leaking oil or fuel. A maximum of 20 litres of fuel in an appropriate canister are allowed per vehicle. We trust you will handle this matter in an appropriate way and that it needs no further explanation or discussion. From 1 a.m., all aggregates need to be turned off for nighttime peace. There is a ban on generators in the GREEN CAMPING area!
Camping outside the official camping area is prohibited. Doing so will be fined!
The order how the campground is set up.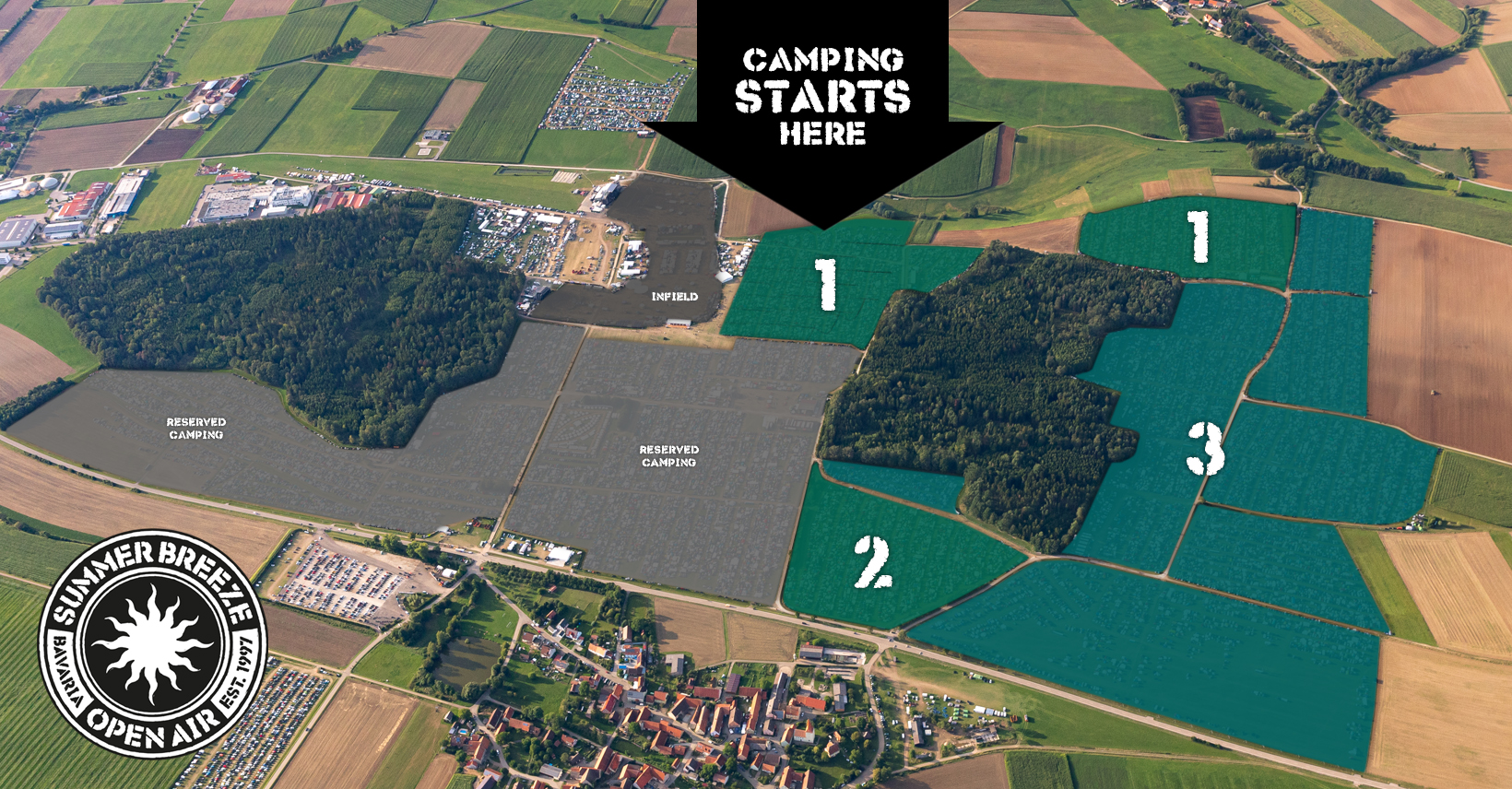 DISTANCES ON THE CAMPGROUND: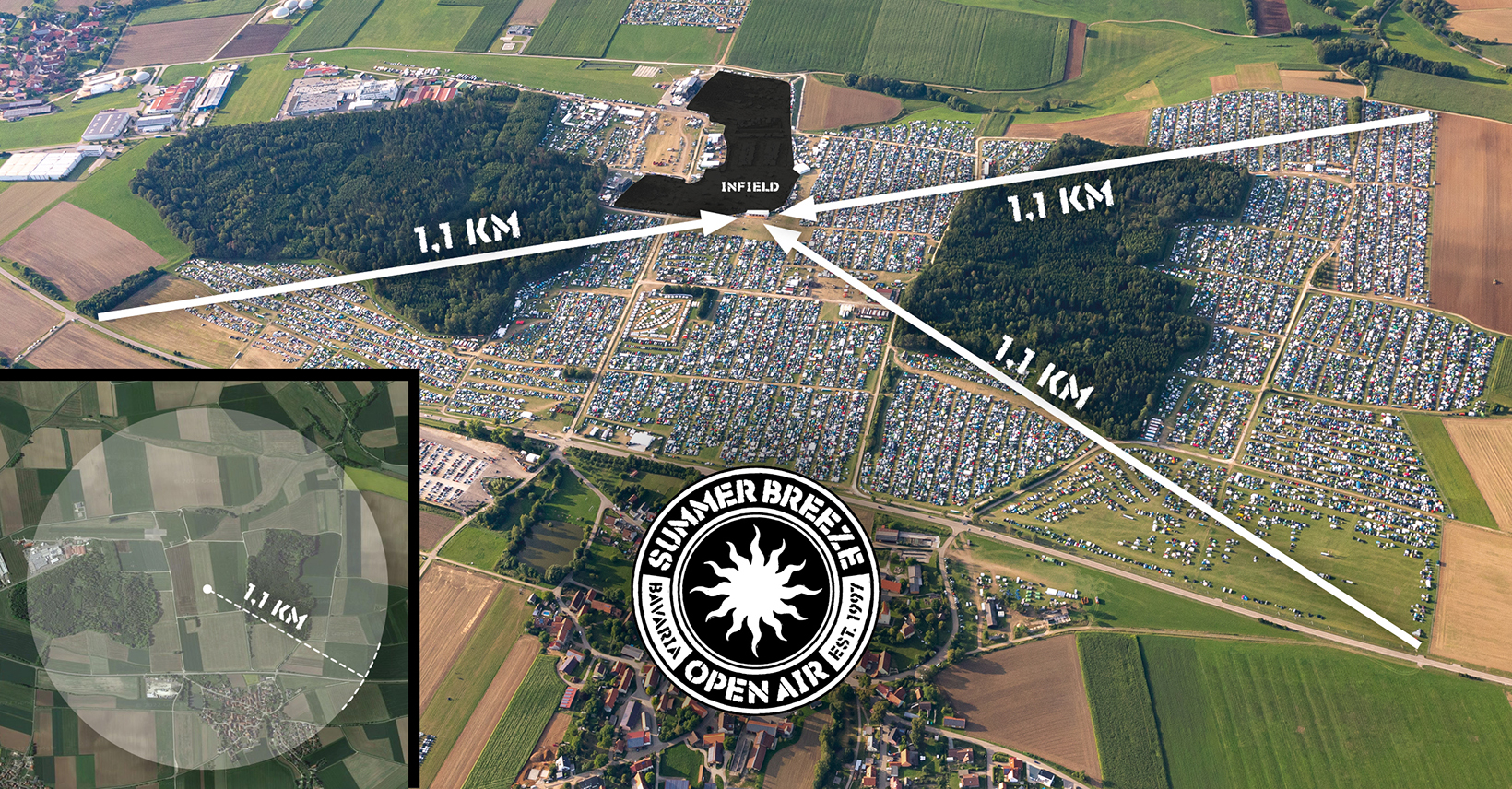 THEFT
In case of theft, please directly contact the police station on site. Check the festival map for the exact location.
Unfortunately our festival – like most big events – is not immune to pickpockets and thieves. Most of the times it is organised gangs trying to pick your wallets in the crowd in front of the stages. Therefore please make sure your wallets as well as any other belongings are kept safe. Furthermore, please do not leave any valuables or car keys in your tent and make sure to keep your cars and tents locked when leaving. Please also be careful at night, because the thieves are getting more and more audacious. At other festivals they have robbed people by cutting their tents open while they slept.
Please don't hesitate to contact our friendly security personnel in case you see suspicious activity!
DOORS OPEN / ENTRANCE CONCERT AREA
Thursday to Saturday, you can access the concert area from 11:00.
On Wednesday the concert area can be accessed from 13:30.
At the entrance there will be security checks, so please make sure you only bring drinks in the allowed containers and quantities (a transparent PET bottle of up to 0.5 litres per person or the 0.4 litre SUMMER BREEZE cup or the original SUMMER BREEZE drinking horn) and only the permitted photo cameras.
Unfortunately all prohibited items must be confiscated and discarded.
Other items NOT allowed in the concert area include:
All kinds of weapons and knives (including clasp knives), all kinds of glass, film cameras and audio recording equipment, selfie sticks, flagpoles and staffs, as well as all kinds of pyrotechnic items, gas horns, musical instruments and similar.
BAN ON GLASS
There is a ban of glass at Summer Breeze. We will strictly check each car entering the site. Our security will also check the camping grounds during the festival days. Please have understanding and avoid bringing any kind of glass containers.
This includes all food and drink containers made of glass, regardless of the use they are given (e.g. tobacco in a preserving jar). Due to the high accident and fire hazard, oil (kerosene/paraffin) lamps are prohibited too! Perfume flacons, medicine bottles and shishas are allowed.
Best thing to do is to pour all liquids into plastic containers. Please take this issue seriously – otherwise we will face massive problems in getting access to appropriate camping grounds in the future!
MUSIC ON THE CAMPGROUND / NIGHTTIME PEACE
Music and party on the campground are essential parts of the festival, but please be reasonable and respect your neighbors. We´d like to remind you to shut down your generators at 1AM to reduce the noise.
RACISM
Racism will not be tolerated! Hereby we once again would like to state we are strictly against any form of right-wing philosophy or racism. We also count on your help: if you come across anything, please inform us immediately! Either approach security or go to the info point on site.
SEVER WEATHER / BAD WEATHER / STORM / CLEARING / EVACUATION
Every measure taken in such case is for your own safety!
In case the infield needs to be cleared, stay calm and get in your cars, where it is usually the safest.

Especially in case of severe weather or storm, we reserve the right to change the arrival and parking process as needed.
In case it is necessary to clear the infield, we urge you to follow the instructions of the security personnel and emergency services. Please also mind the announcements through the PA, as well as police, fire brigade and emergency service announcements.  In the unlikely case of evacuation, the whole site (this is, including the campsite) has to be cleared. Please follow the instructions of the security personnel and the emergency services in this case, too, and mind the announcements in German and English.
PROHIBITIONS / FORBIDDEN & CONFISCATED ITEMS
Not allowed on the entire festival ground:
– glas
– baseball bats, slingshots, brass knuckles, tear gas, pepper spray and any kind of weapon
– dry ice
– water guns, paddling pools
– flyer, poster, free CDs for marketing activities
– selfmade attire that could cause injuries (barbed wire, nails,…)
– Drones, remotely piloted aerial vehicles
– Signal horns, megaphones, PA-systems, mixing desks, ampliefiers, electric guitars, drum sets, drums, trumpets, vuvuzelas or similar
– axes, knives with blades exceeding 10cm, carpet knives, power saws, spades and other heavy duty tools or similar
– Ammunition and pyrotechnic articles of any kind
– Kerosene lamps, torches, flammable liquids
– Both analog and digital compact cameras, as well as mobile phones with integrated cameras, are allowed. Reflex cameras with interchangeable objective lenses, video cameras and action cameras (GoPros, etc.), as well as any audio recording devices are prohibited on the concert area, except with the relevant press (photo) pass.
Confiscated items of low value will be thrown away.
Items with higher value can be stored until Sunday 2pm on Black Earth (car inspection) for a fee. Please pick up your items at 2pm on Sunday latest, if you forget to pick up your stuff we will give it to the lost and found bureau in Dinkelsbühl.
It is forbidden to deal any goods at SUMMER BREEZE.
Please don´t dig holes in the ground on your campsite.
Bringing animals to SUMMER BEEEZE is forbidden!