A-Z
GENERAL TERMS AND CONDITIONS
Those can be downloaded and read HERE.
AGE LIMIT / PROTECTION OF MINORS / CHILDREN
At SUMMER BREEZE Open Air, the German Law for the Protection of the Youth applies.
Ages from 0 to 6 inclusively

Admittance:
Concert area: no admittance
Camp site: only with legal guardian
Ages from 7 to 12 inclusively

Admittance:
Concert area: only with legal guardian
Camp site: only with legal guardian
Ages from 13 to 15 inclusively

Admittance:
Concert area: only with legal guardian or person having the care and custody of the 
child
Camp site: only with legal guardian or person having the care and custody of the 
child
Ages from 16 to 17 inclusively

Admittance:
Concert area (from 24:00): only with legal guardian or person having the care and custody of the 
child
Camp site (from 24:00): only with legal guardian or person having the care and custody of the 
child
Youths between 16 and 17 years of age without their parents, legal guardians or custodians must leave the festival site (including the concert area and camp site) before 24:00!
Legal guardian

Parent or guardian appointed by law.
Person having the care and custody of the child

Parent, guardian or third person to whom the parent or guardian has transferred custody for the duration of the festival.
If a youth is accompanied by a third person, they must have a written "agreement for custody" issued and signed in a legally binding way. This has to be carried at all times along with the personal ID. Failure to produce said document upon request may lead to expulsion by police. The homeward journey must be guaranteed for the accompanied youth.
We expressly point out that the legal guardians, normally the parents, must in all conscience decide who may temporarily assume the responsibility for education and to which extent it is transferred. The person to whom this mandate is transferred must also be aware of the responsibility it implies. Please note: Care and custody for more than one minor may be transferred to one person!
The agreement can be downloaded HERE!
The prohibition to drink any type of alcohol, including alcopops, under the age of 18 is still in effect!
Children of up to 12 years of age have free access when presenting the child's and one of the parents' Ids. 
ARRIVAL / DEPARTURE – TRAVEL INFO
SUMMER BREEZE TAKES PLACE IN DINKELSBÜHL.
More precisely: in Sinbronn (a district of the large district town of Dinkelsbühl in the district of Ansbach (Middle Franconia, Bavaria)).
Recommended address for navigation:
Illenschwang
91749 Wittelshofen
All relevant contact points of the SUMMER BREEZE are well signposted around Dinkelsbühl.
Opening of the access gates on Tuesday (early arrival day): 10:00 a.m. to 10:00 p.m.
Opening of the access gates on Wednesday: 08:00 a.m. continuously until Sunday.
Early arriving Tuesday campers will be charged a logistics fee of 15,-€ per person.
On Sunday the area has to be cleared by 14 o'clock at the latest.
The day parking lot is open daily from 9 am.
ATTENTION: In order not to add to the arrival traffic, it is unfortunately not possible to leave the campsite by car from Tuesday to Thursday afternoon. To get to Dinkelsbühl you can use the shuttle bus for free. On Saturdays it is not possible to enter the camping area after 18:00. Eventual arriving visitors will be redirected to the day parking lot. In the event of inclement weather or severe weather, we reserve the right to alter access and parking procedures at our best discretion. This is to ensure a smooth process and we ask that you follow the staff in this situation without fail.
All those who wish to arrive a day earlier for SUMMER BREEZE may do so during the 12-hour time window on Tuesday. However, we have to charge those arriving early a contribution towards logistical costs per person, because it wouldn't be fair that the additional costs (personnel, rent, etc.) are carried by all campers, but only those arriving early. On Sunday, the site has to be cleared by 14:00. The daily parking lot will be open from 09:00. We will put up signs around the entire Dinkelsbühl area to guide you to the campsite, parking lots and festival site!

PLEASE NOTE: Due to traffic restrictions, it will be impossible for you to leave the campground by car once you have entered it, from Tuesday until Thursday afternoon. If needed, the shuttle bus will give you a lift to the city centre of Dinkelsbuehl free of charge.
On Saturday it will not be possible to access the campsite by car from 18:00. People arriving by car after that time will be diverted to the day parking lot.
By car
Arrival + departure with public transport
Bus shuttle between the festival site and Dinkelsbühl
Busses
Recommended airports
By Car
We recommend the route via Dinkelsbühl. Follow the signs to the festival ground.
Address of the festival ground:
Illenschwang
91749 Wittelshofen
Arrival + departure with public transport
Check BAHN.DE for all trips to Summer Breeze. We recommend to travel via Ellwangen. If you reach Dinkelsbühl with regular public transport you can transfer to the festival shuttle bus at ZOB (bus station) Schwedenwiese. We recommend the following cities as starting point to Dinkelsbühl: Ellwangen, Ansbach, Crailsheim, Dombühl
Bus shuttle between the festival site and Dinkelsbühl – free of charge during the day
NIGHT SHUTTLE AVAILABE (fee required)
This year the free bus shuttle service between the festival site and the town of Dinkelsbühl will operate at the following times (please click on the picture):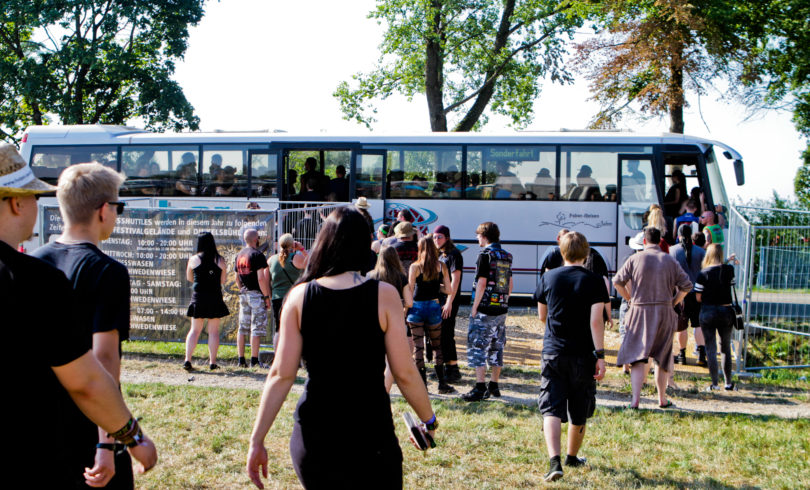 Bus transfers STUTTGART / ULM / NÜRNBERG
Busses MONDIAL – schedules and info: www.mondialevents.de
Recommended airports
NÜRNBERG, STUTTGART, MUNICH or FRANKFURT offer good connections to get to Dinkelsbühl. Check BAHN.DE for all trips to Summer Breeze.
SIGNING SESSIONS
Many bands will be holding signing sessions at our partner's booth of METAL.DE. Please note the scheduled times posted on our channels and at their booths to make sure you don't miss this unique chance.
DISABLED PEOPLE / WHEELCHAIRS
SUMMER BREEZE FOR VISITORS WITH DISABILITIES
We are always striving to improve the service for our festival visitors with disabilities and to make the festival as pleasant and above all barrier-free as possible for them!
Severely disabled visitors with a B (need for constant accompaniment), H (helplessness) or BL (blindness) in their ID will receive a free ticket for an accompanying person at the Check In SV Sinbronn. It is important that the disabled visitor has a valid admission ticket and the corresponding severely disabled person's ID with one of the above-mentioned marks.
Visitors with a wheelchair and a severely disabled pass will receive a free ticket for an accompanying person, even if the corresponding markings are not noted on the pass.
We can provide a platform including a disabled toilet for wheelchair users in front of the stages. Visitors with a doctor's certificate stating that they need a seat will also be allowed on the platform if there is capacity. Wheelchair users always have the priority right to a seat.
There are 30 toilets suitable for people with disabilities on the festival ground.
Please feel free to contact our Infopoint at any time with any questions you may have on the plaza.
In case of emergencies we recommend our general emergency number 07366/920 000.
Please write to us at info@summer-breeze.de if you have any questions about the regulations. Together we will find a solution.
For cool storage of special medications, the Medical Center on the premises is at your disposal.
Additional service for wheelchair users
In case of a damaged wheelchair (broken tires, insufficient air, minor repairs, etc.)
the wheelchair service Feix is at your disposal from 09:00 – 13:00.
In urgent emergencies: 015209914402
CAMPING ADD-ON HANDICAPPED CAMPING (limited availability)
Reservations must be made in advance for Handicapped Camping.
We offer a camping add-on for visitors with disabilities and wheelchair users. Here we can offer visitors electricity (e.g. for ventilators, e-rollis etc.) and short distances. In addition to handicapped accessible toilets, there will also be a handicapped accessible shower in the immediate vicinity. Recommended occupancy: 3-4 persons on the 50 square meter plot. Payment is per plot, not per person.
Location: The campsite is located close to the infield and the party area.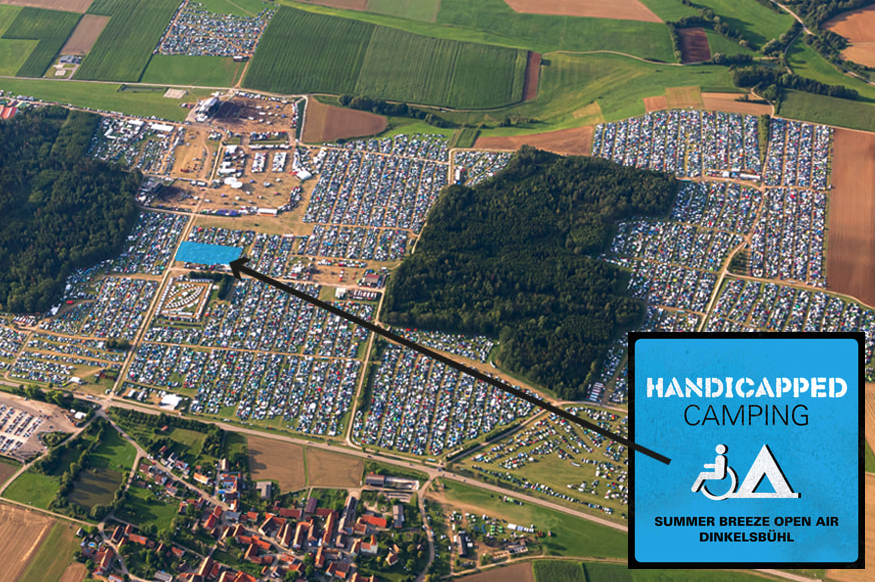 In case of separate arrival, please make sure that all members of your group have their booking confirmation with them. This will ensure that you have access to the corresponding handicapped camping plot.
More information about the Camping Add-On Handicapped Camping is available directly in our store: Please click here!
All information about arrival/departure with public transport can be found HERE.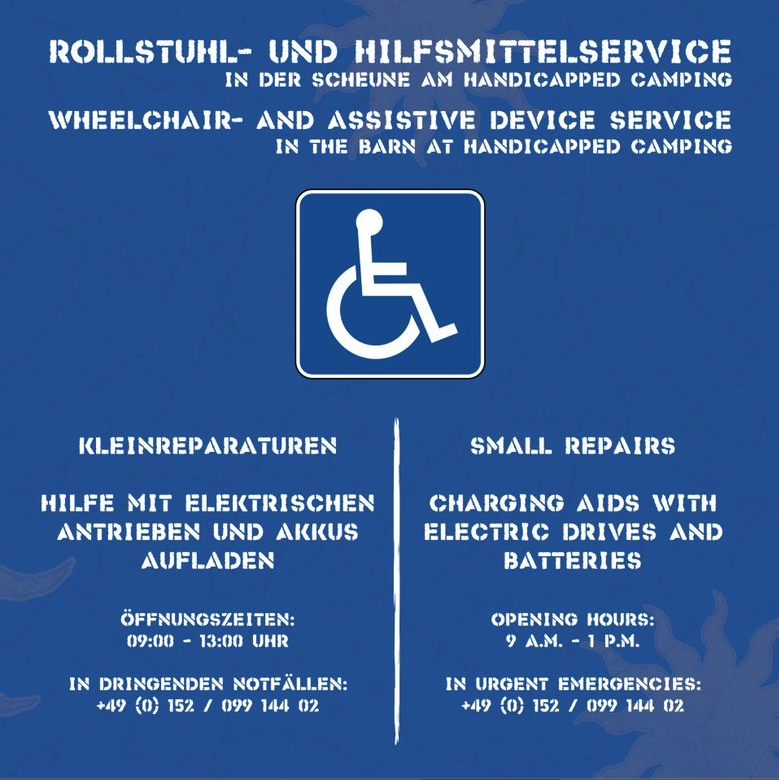 VIDEO AND AUDIO RECORDING
By entering the festival site, all attendees agree to be filmed or recorded and that this material may be published at a later time.
BUS SHUTTLE BETWEEN THE FESTIVAL SITE AND DINKELSBÜHL
The departure times and schedules for the shuttle buses can be found HERE!
CAMPING / PARKING / CAMPING EQUIPMENT / CARS
Regular camping is included in the festival ticket price.
Add-Ons like reserved camping, comfort camping, caravan camping and handicapped camping are available in our shop.
There will be enough parking and camping space available. You may park your car right next to your tent. Camping is not permitted without the purchase of a festival ticket. Therefore, please make use of the official parking and camping areas.
The daily parking area can be found just across the street of the campsite entrance. You may also park your car in that area while camping on the campsite separately, but wish to make sure you can move your car at any time.
Only vehicles with a weight not exceeding 3.5 tons will have access to the campground. This also applies to caravans and mobile homes. Trailers which can only be towed by a tractor or lorry will not be allowed on the campsite. The same goes for tractors and generally all motorized two wheel vehicles as well as quad bikes and trikes. Motorized two-wheelers with internal combustion engine, quads and trikes must be parked in the day parking area. Vehicles with a weight exceeding 3.5 tons can not be parked at SUMMER BREEZE, if you haven't booked caravan camping.
PARKING TICKET:
For SUMMER BREEZE a separate parking ticket must be purchased per vehicle and per trailer. This ticket will only be sold on site. You will receive the parking tickets during the control of your vehicle in the control gates on Black Earth from our parking ticket sellers (purple vest).
Prices:
Parking ticket vehicle 20,-€
Parking ticket trailer 20,-€
GAS CYLINDERS:
Trailers and campers shall not bring gas cylinders exceeding 11kg. Please make sure your equipment is in good working condition and that you use it in an appropriate way. Any misuse may have fatal consequences. We believe this needs no further explanation.
GENERATORS:
If you plan on taking a generator with you onto the site, please make sure it is in good working condition and that it is not leaking oil or fuel. A maximum of 20 litres of fuel in an appropriate canister are allowed per vehicle. We trust you will handle this matter in an appropriate way and that it needs no further explanation or discussion. From 1 a.m., all aggregates need to be turned off for nighttime peace. There is a ban on generators in the GREEN CAMPING area!
Camping outside the official camping area is prohibited. Doing so will be fined!

DISTANCES ON THE CAMPGROUND: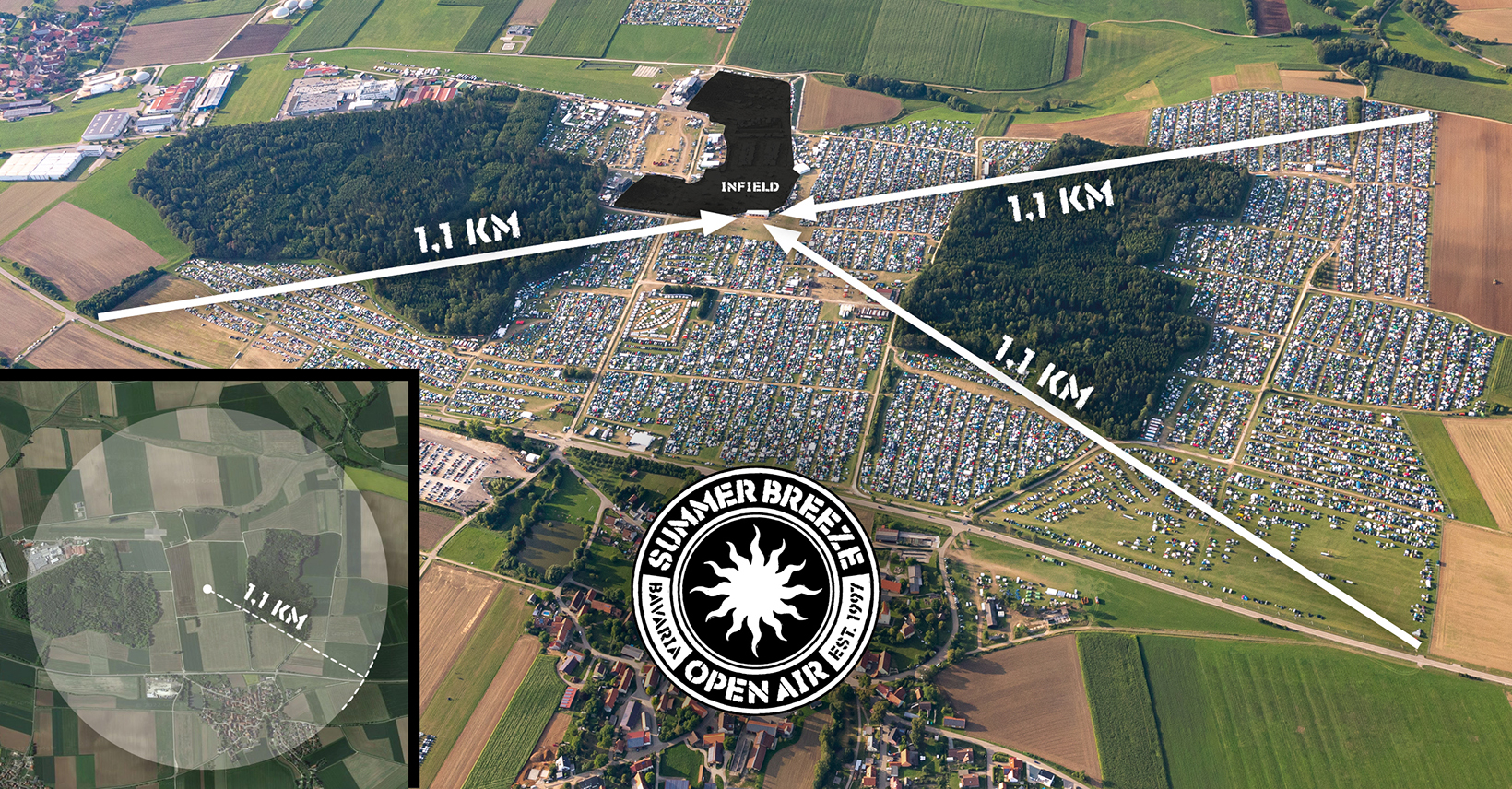 THEFT
In case of theft, please directly contact the police station on site. Check the festival map for the exact location.
Unfortunately our festival – like most big events – is not immune to pickpockets and thieves. Most of the times it is organised gangs trying to pick your wallets in the crowd in front of the stages. Therefore please make sure your wallets as well as any other belongings are kept safe. Furthermore, please do not leave any valuables or car keys in your tent and make sure to keep your cars and tents locked when leaving. Please also be careful at night, because the thieves are getting more and more audacious. At other festivals they have robbed people by cutting their tents open while they slept.
Please don't hesitate to contact our friendly security personnel in case you see suspicious activity!
DINKELSBÜHL
The festival site is located about 5 km outside of Dinkelsbühl, therefore we will again provide a bus shuttle running from and to Dinkelsbühl.
Dinkelsbühl itself has numerous attractions and leisure facilities to offer. You can do some shopping in the picturesque medieval Old Town, check out some of the countless cafes, restaurants and bars or visit the indoor swimming pool, as well as one of the last river beaches in Bavaria – the Woernitz river shore. There is also a post office and several pharmacies in town.
DOORS OPEN / ENTRANCE CONCERT AREA
Thursday to Saturday, you can access the concert area from 11:00.
On Wednesday the concert area can be accessed from 13:30.
At the entrance there will be security checks, so please make sure you only bring drinks in the allowed containers and quantities (a transparent PET bottle of up to 0.5 litres per person or the 0.4 litre SUMMER BREEZE cup or the original SUMMER BREEZE drinking horn) and only the permitted photo cameras.
Unfortunately all prohibited items must be confiscated and discarded.
Other items NOT allowed in the concert area include:
All kinds of weapons and knives (including clasp knives), all kinds of glass, film cameras and audio recording equipment, selfie sticks, flagpoles and staffs, as well as all kinds of pyrotechnic items, gas horns, musical instruments and similar.
FIRST AID / MEDICINES / MALTESER
The main first aid center is located next to the entrance gate to the campground.
Other smaller first aid stations can be found in the western Green Camping area at the Shit 'n' Shower Station 1.1, as well as in the eastern camping area in the area L.
Additionally, the Malteser Hilfsdienst is patrolling with mobile squads and vehicles on the camping area.
The locations of Malteser Hilfsdienst are marked on the festival map.
In the main first aid center there are refrigerators available where you can store your medication during the festival days.
In case of emergency, please contact our staff (e.g. at every Shit 'n' Shower station). Due to the equipment of the employees with radios, first aid can then be requested directly.
The festival hotline is 07366/920010.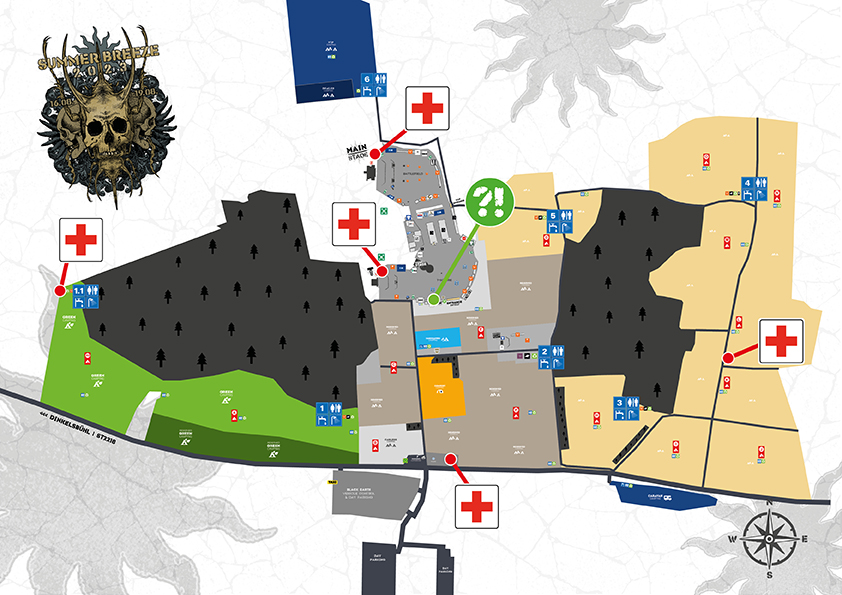 INFOPOINT AND MEDICAL CENTERS
FOOD / GROCERIES
It is allowed to bring food onto the campsite without limit.
ATTENTION: Glass is absolutely prohibited on the entire campsite and concert area! Please fill you food/drink into permitted containers.
On site:
We will obviously provide you with the opportunity to buy refreshments and food. Stands can be found throughout the entire site. You may bring your own drinks (for your own use only) to the campground. You may only take a tetra pack or a plastic bottle of up to 0.5 litres per person or a SUMMER BREEZE 0.4 ltr mug with you onto the concert area.
Vegan/vegetarian:
There is a large variety of vegetarian and/or vegan food at the festival and campsite. There are several recommended vegetarian/vegan food stands both at the main stages and at the T Square. In addition to the stands there is also the possibility to order vegetarian and/or vegan food at the other stands, for example Asian, pizza, local vegetarian specialities, Dutch fries, etc. In the big supermarket at the barn there are vegan products available, such as soymilk, vegan cold cuts, etc. Fresh fruit is also available there. Just ask at the supermarket…
Gluten-free:
Unfortunately the choice of gluten-free products in our supermarket and at the food stands is limited. Therefore we recommend you add gluten-free bread etc. to your camping provisions. Some of the food stands offer the choice of having their dishes "breadless" in order to avoid gluten. We also recommend O.S. Nutrition (on the Battlefield). Furthermore there´s the dolle Knolle (great potato) close to the Green Camp and the Dutch fries (T-Square).
FIRE / GRILLS
Open fire is strictly prohibited throughout the entire camping and festival site. Camping stoves and barbecue grills are allowed. All grills and stoves MUST be set up on their corresponding stands on firm ground. Coal trays must not be in contact with the ground.
Disposable grills are only allowed with fireproof base (e.g. an old baking tray).
Due to some serious accidents which have resulted in life threatening injuries, we expressly urge you to exercise extreme caution when using fire starters to light charcoal barbecues! Oil lamps are not allowed on the festival site! The same applies to firewood and cressets!
ARRIVAL IN GROUPS / SAVING CAMPING SPACE FOR FRIENDS
Please follow the instructions of our personnel, so the filling of the saved space hopefully works quickly and without problems.
Ideally you should always keep right with your group when arriving (even before the security corridors); try to use the corridors on the right as well, and stay right when driving onto the campsite. (Our tip: Meet at a parking on the Autobahn before the exit to Dinkelsbühl and then drive together as far as possible.)
Additional advice for drivers of large vehicles (e.g. mobile homes) or cars with trailers (including caravans):
Please also try to keep right, as the corridors on the far right are wider and will be easier for you to pass through.
Motorcyclists are also asked to use the corridors on the right, as they are closer to the motorcycle parking lot.
LOST AND FOUND
In case you find lost property, please bring it to the infopoint. If you have lost something, please get in touch with our staff at the info point, too.
From 2:00pm on Sunday – when the info point is closed – uncollected items will be transferred to the official lost and found office in Dinkelsbühl after the festival. Contact: Jasmin.Schletterer@dinkelsbuehl.de
SITE MAP
The site map for SUMMER BREEZE Open Air can be found HERE.
CASH MACHINE / ATM
There will be cash machines on site, located close to the band merchandise. The charges for cash withdrawals will be displayed at the machine. You can also find the exact location on our site map.
BAN ON GLASS
There is a ban of glass at Summer Breeze. We will strictly check each car entering the site. Our security will also check the camping grounds during the festival days. Please have understanding and avoid bringing any kind of glass containers.
This includes all food and drink containers made of glass, regardless of the use they are given (e.g. tobacco in a preserving jar). Due to the high accident and fire hazard, oil (kerosene/paraffin) lamps are prohibited too! Perfume flacons, medicine bottles and shishas are allowed.
Best thing to do is to pour all liquids into plastic containers. Please take this issue seriously – otherwise we will face massive problems in getting access to appropriate camping grounds in the future!
GREEN CAMPING
As is known from the rules in the past years, a peaceful, considerate and ecological behaviour is paramount in this camping area, so there's a special set of rules for GREEN CAMPING:
– Strict observance of the nighttime peace from 1:00am to 7:00am
– Prohibition of aggregates and other sources of noise (car hifi use only at a moderate volume)
– Strict waste separation and disposal
– Self dependent cleaning of the used camping grounds
– Consideration with camping neighbours
– Sensible use of water supplies in showers and toilets
At GREEN CAMPING we depend on your active help.
Only registered people will have access to GREEN CAMP. Access is not granted without a valid pass, meaning it is not possible to invite people from the "regular" campsite into the GREEN CAMP area.
There will be a special entrance to this separate, closed off area.
Fact check GREEN CAMPING:
– GREEN CAMPING is free
– Special closed off camping area
– There is no limit on the number of cars, but obviously not everyone should be arriving in their own (ecobalance!)
– A separate parking ticket must be purchased on site for each car.
– Besides the camping reservation, a separate parking ticket must be purchased in advance  on site with an extra charge.
– It is possible to keep camping space free for people arriving later
– Strict observance of the nighttime peace from 1:00am to 7:00am
– Prohibition of aggregates and other sources of noise (instruments etc., car hifi use only at a moderate volume)
– Strict waste separation and disposal: the GREEN CAMPING ground must be free of waste at all times, and the collected waste must be separated for recycling
– Self dependent cleaning of the used camping grounds
– Consideration with camping neighbours
– Sensible use of water supplies in showers and toilets
– GREEN CAMPING relies and depends on the responsibility of the people who make use of it. We hope for some intra-group control. If anyone acts flagrantly against the GREEN CAMPING philosophy they lose the right of access and have to camp on the regular campsite. In case of gross misconduct, we reserve the right to expel the person in question from the festival altogether!
– There will be an appropriate number of portable toilets and urinals in the GREEN CAMPING area for use free of charge. There will be paid showers right next to the GREEN CAMPING area.
– Only tents and gazebos with no added elements are allowed.
– Big furniture elements such as armchairs, sofas, beds and refrigerators are not allowed.
– GREEN CAMP users agree to take their whole tents and camping equipment with them on the day of their departure and to dispose of their whole waste separately (recycling-ready) at the GREEN CAMPING waste disposal station.
INFOPOINT
From Tuesday on, there will be an official Infopoint close to the concert area entrance (check the festival map). It will be open daily until 01:00am, Sunday 02:00pm. If any changes should occur during the festival, we will announce them there immediately. Also, should you have any problems, questions, criticism, complaints and so on, you can approach our staff. Please also go to the Infopoint should you lose or find anything. There are earplugs available at the Infopoint.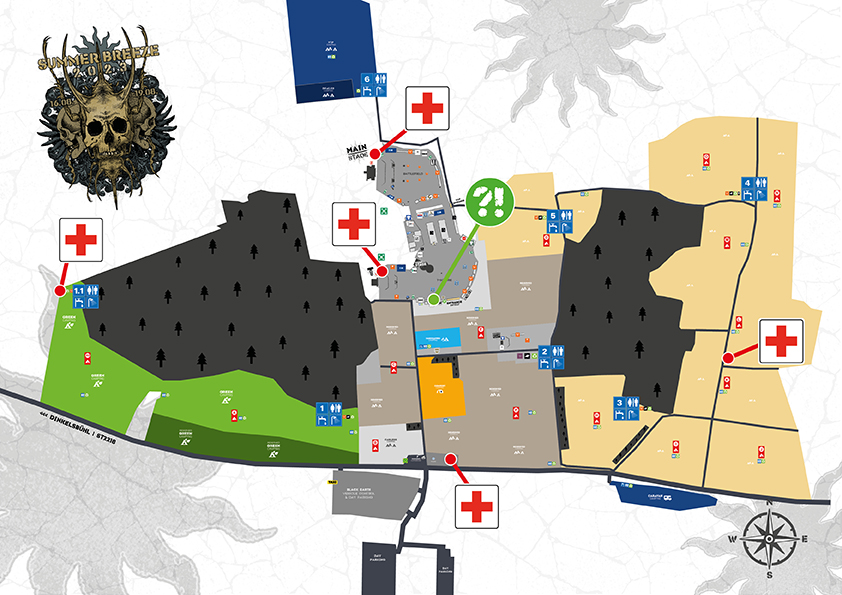 INFOPOINT AND MEDICAL CENTERS
MERCHANDISE
There are two big merchandise stands at the concert area: one for the official festival merch and another for the band merchandise of almost all of the bands appearing at the festival.
GARBAGE
We ask you for your kind help to address the garbage situation.
WASTE STATIONS and SEPARATION OF WASTE – LESS TRASH, MORE THRASH!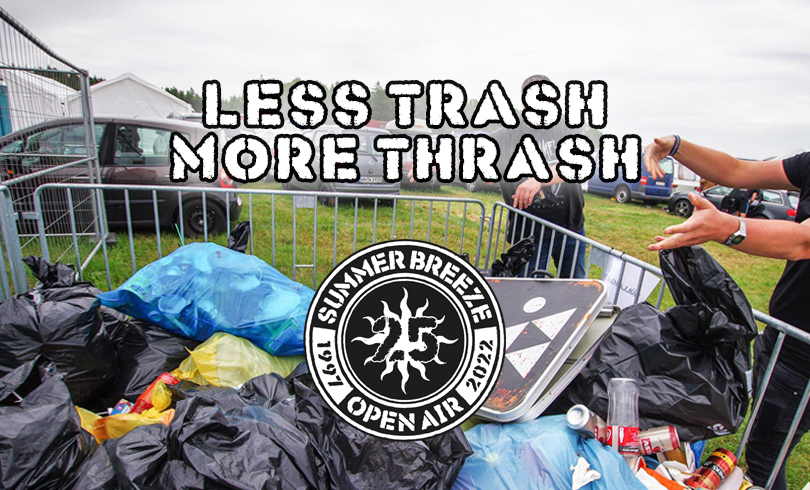 At all SHIT 'N' SHOWER STATIONS, as well as at the mobile toilets, you will have the opportunity to drop off your trash (separated into residual waste, paper and yellow bag). We count on you to take advantage of the short distances and keep your camps and the site clean.
Yellow Bag: plastic, foils, packaging, milk & juice cartons…
Black Bag: Disposable tableware, Ash, Hygiene articles, rubber…
Paper: Cardboard, paper
Garbage bags will be handed out at all SHIT 'N' SHOWER STATIONS.
Our waste stations will be emptied by our teams on a regular basis.
Please also make sure you keep your camping space tidy during your entire stay in your own interest.
Please make sure you do not leave any metal items such as tent pegs in the ground. Leaving furniture harms the festival immensely due to high disposal costs.

MUSIC ON THE CAMPGROUND / NIGHTTIME PEACE
Music and party on the campground are essential parts of the festival, but please be reasonable and respect your neighbors. We´d like to remind you to shut down your generators at 1AM to reduce the noise.
AWARENESS & COUNSELING
SUMMER BREEZE is a festival where nobody should feel uneasy, attacked or disciminated against.
Everybody is a part of the festival and respecting others is a priority in our community.
Our awareness team welcomes you 24/7 in their tent.
The team is there for YOU:
If you don't feel well, if you need a place to rest, if you need to get away from stressful situations ot if you need somebody that listens,…
In our awareness tent, you can recharge, relax and calm down.
You can charge your phone, have some water, sit in the shade and the most important thing: you'll meet people that are there FOR YOU.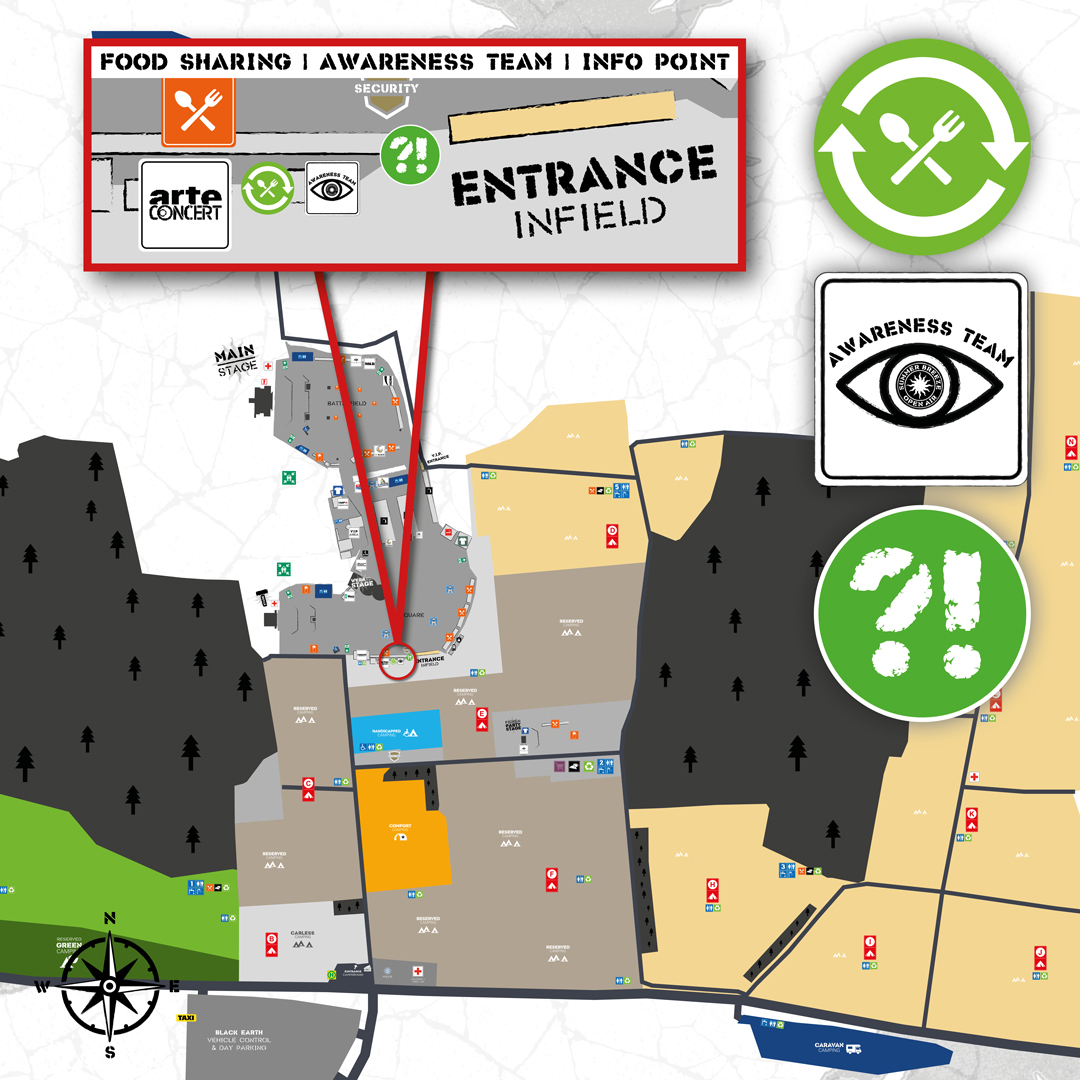 PARKING TICKET
In order to park a motor vehicle on the campsite, a parking ticket must be purchased per vehicle and per trailer. This ticket is only sold on site. Please note basic info on CAMPING / PARKING / CAMPAIGN EQUIPMENT / VEHICLES.
Prices:
Parking ticket vehicle 20,-€ (full festival) / 10,-€ (day ticket)
Parking ticket trailer 20,-€
There is also a charge to park on a separate day parking lot.
The above applies to all motor vehicles with an internal combustion engine (i.e. cars, motorcycles, caravans, etc.).
Those arriving on Tuesday must pay an extra 10 Euro contribution towards logistical costs per person. You can purchase your parking tickets from our parking ticket sales team, who will be located between the festival bracelet collection point and the security control corridors. That means, first you go to exchange your ticket for a festival bracelet and then you buy the parking ticket for your vehicle at the entrance to the security control corridors.
RETURNABLE BOTTLES AND CANS
This year we are pleased to partner with CROWDPFANDING. CROWDPFANDING employees will be on the ground as bottle deposit collectors.
Unauthorized collection of returnables is not permitted on the festival site!
POLICE
The main police station is near the entrance to the campground.
Emergency number: 110
The police considers the whole festival ground, including concert area, campsite and parking area, as public roads. Please keep this in mind when driving on the festival site (no drugs/alcohol, only registered cars, etc.) and behave as if you were driving on an open street. The police will be there to enforce traffic laws.
They will be testing for drug and alcohol abuse as usual. We will not clear the daily parking lot so you may stay there overnight. The police controls on Sunday will definitely happen.
RACISM
Racism will not be tolerated! Hereby we once again would like to state we are strictly against any form of right-wing philosophy or racism. We also count on your help: if you come across anything, please inform us immediately! Either approach security or go to the info point on site.
RESERVING CAMPING SPACE
Information about the additional camping option RESERVED CAMPING SPACE is available HERE.
SEVER WEATHER / BAD WEATHER / STORM / CLEARING / EVACUATION
Every measure taken in such case is for your own safety!
In case the infield needs to be cleared, stay calm and get in your cars, where it is usually the safest.

Especially in case of severe weather or storm, we reserve the right to change the arrival and parking process as needed.
In case it is necessary to clear the infield, we urge you to follow the instructions of the security personnel and emergency services. Please also mind the announcements through the PA, as well as police, fire brigade and emergency service announcements.  In the unlikely case of evacuation, the whole site (this is, including the campsite) has to be cleared. Please follow the instructions of the security personnel and the emergency services in this case, too, and mind the announcements in German and English.
LOCKERS
You´ll find lockers close to the concert area entrance. You can book them in advance: Click here!
SECURITY / CREW
The security office is located in the middle of our camping area. Find the exact location on our site map.
You can reach the office via: 07366/920010
You can also easily contact the security crew through our infopoint.
Our securities will be wearing numbers so they can be easily identified, please remember the number to review any kind of situation we have to settle.  However, generally speaking, the securities' instructions have to be observed and followed without question to ensure a smooth event.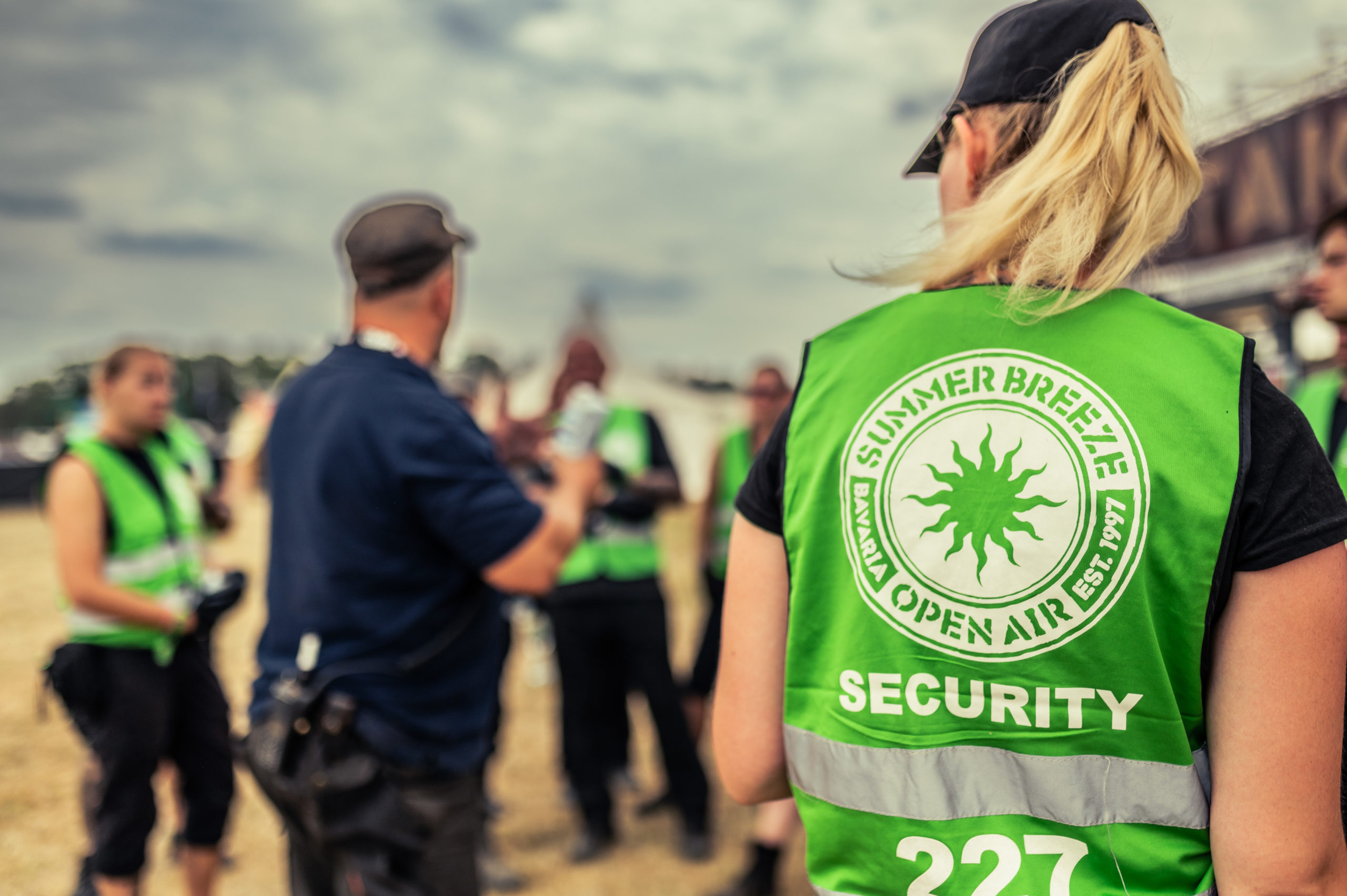 SUPERMARKET
Anything you might need to survive this festival weekend can be found in our supermarkets, which are marked on the site map, for reasonable prices.
If you find the PARTY STAGE, you'll find the supermarket.
Opening hours:
Tuesday, 09.00 a.m. to 11.00 p.m.
Wednesday to Saturday, 6.30 a.m. to 11.00 p.m. each day
Pre-ordered beer can be picked up in front of the supermarket until 1:30 a.m..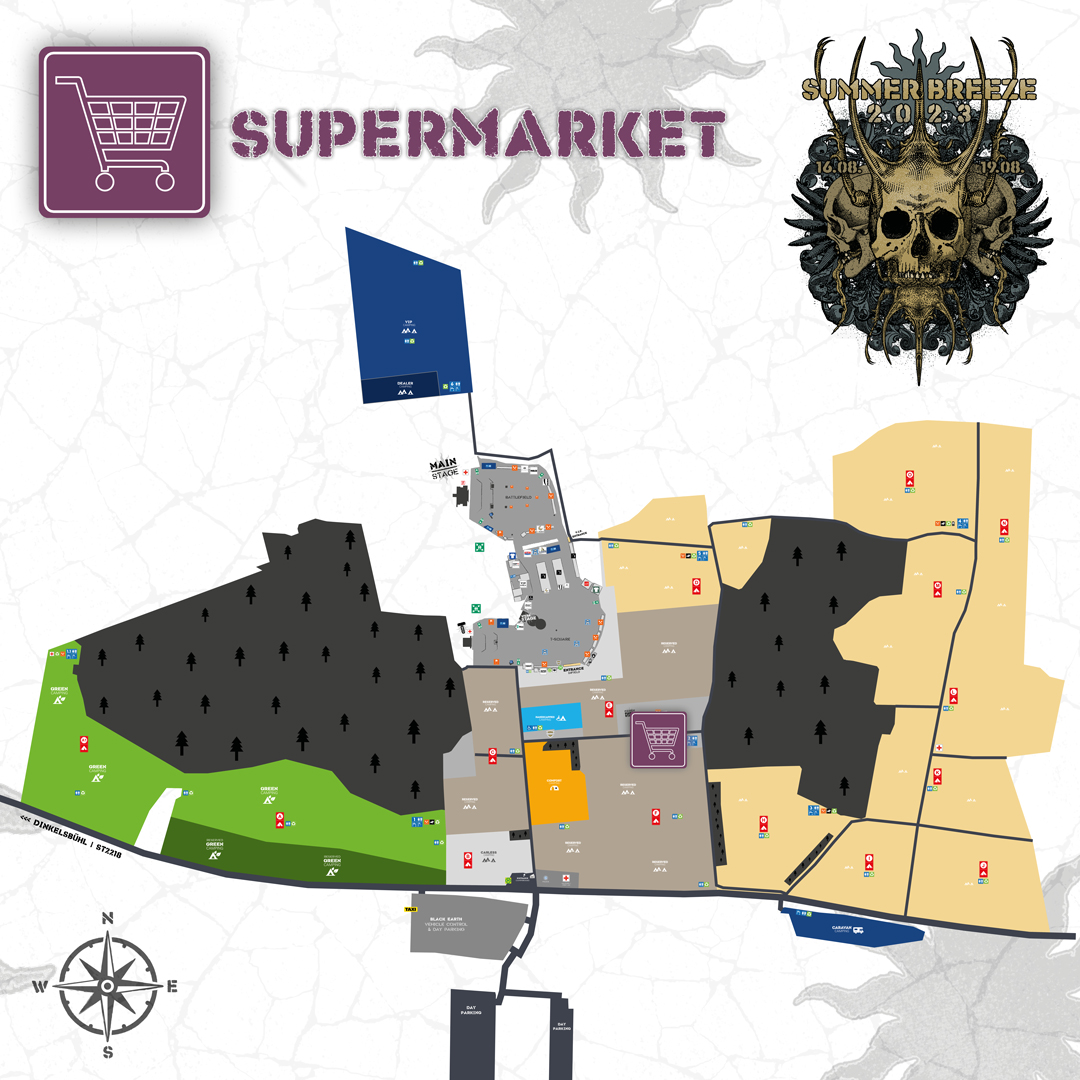 TICKET COUNTER / DAY TICKETS
Print@home tickets are available for Wednesday, Thursday, Friday and Saturday. Find the tickets in our shop HERE. Plus: each day there's going to be a limited number of one-day tickets available at the festival box office, valid only for the same day.
The festival box office opens at 10:00 a.m. every day and is open until 10:00 p.m. From 10:00 p.m. 'til midnight you can buy the tickets at the vehicle control on Black Earth. The day parking lot is just opposite the entrance to the camp site and is signposted. Parking is not included in the ticket price. Camping is not allowed for one-day ticket holders.

Parking information for one-day ticket holders:
Please follow the sign to "Tagesparkplatz / Day parking lot"
DAY PARKING LOT
The day parking lot is located opposite of the entrance to the campsite, is signposted accordingly and opens at 9am every day. (Starting Tuesday)
You can depart anytime. We will not vacate the day parking lot, so it is possible to stay there over night. However, the use of camping accessories is not allowed here. You may obviously park your car here too if you are camping but want to make sure you will be able to leave by car at any time.
There is a charge for parking on the day parking lot.
Please note all rules concerning CAMPING / PARKING / CAMPING EQUIPMENT / CARS!
Prices:
Parking ticket vehicle 20,-€ (full festival) / 10,-€ (day ticket)
Parking ticket trailer 20,-€
For day ticket holders:
One-day parking tickets for the day parking lot are not available for pre-sale, but only on site.
Festival ticket holders:
In order to prevent misuse, it is not possible for 3-day ticket holders to purchase a parking ticket for a single day. In this case, a regular parking ticket must be purchased.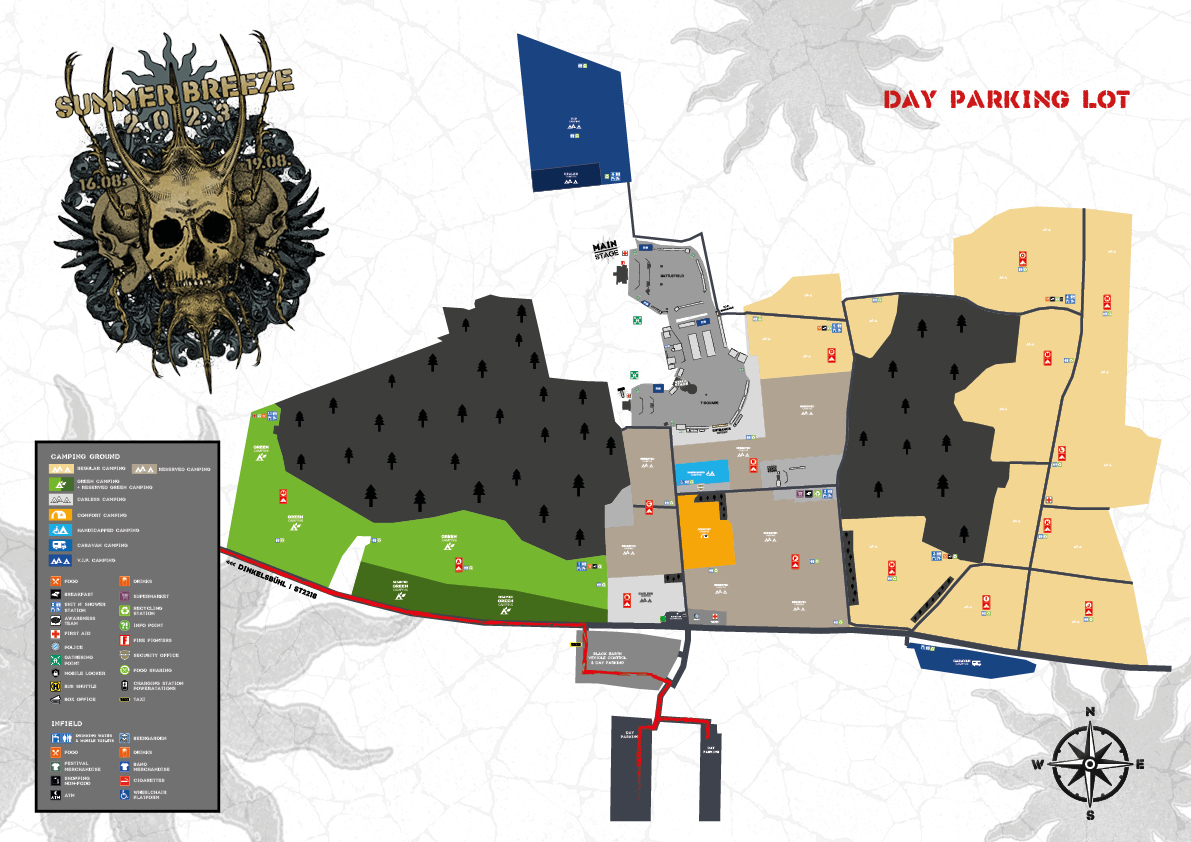 TAXI RANK
The taxi rank is located opposite of Black Earth (Car controls / Daily parking lot) – also included in our festival map.
Ü50 Anwohner
PROHIBITIONS / FORBIDDEN & CONFISCATED ITEMS
Not allowed on the entire festival ground:
– glas
– baseball bats, slingshots, brass knuckles, tear gas, pepper spray and any kind of weapon
– dry ice
– water guns, paddling pools
– flyer, poster, free CDs for marketing activities
– selfmade attire that could cause injuries (barbed wire, nails,…)
– Drones, remotely piloted aerial vehicles
– Signal horns, megaphones, PA-systems, mixing desks, ampliefiers, electric guitars, drum sets, drums, trumpets, vuvuzelas or similar
– axes, knives with blades exceeding 10cm, carpet knives, power saws, spades and other heavy duty tools or similar
– Ammunition and pyrotechnic articles of any kind
– Kerosene lamps, torches, flammable liquids
– Both analog and digital compact cameras, as well as mobile phones with integrated cameras and small action cams, are allowed. Reflex cameras with interchangeable objective lenses, as well as any audio recording devices are prohibited on the concert area, except with the relevant press (photo) pass.
– Do not bring your own radios (walkie talkies). The festival productions needs all available channels for security reasons.
Confiscated items of low value will be thrown away.
Items with higher value can be stored until Sunday 2pm on Black Earth (car inspection) for a fee. Please pick up your items at 2pm on Sunday latest, if you forget to pick up your stuff we will give it to the lost and found bureau in Dinkelsbühl.
It is forbidden to deal any goods at SUMMER BREEZE.
Please don't dig holes in the ground on your campsite.
Bringing animals to SUMMER BEEEZE is forbidden!
CHECK IN SV SINBRONN (incl. VIP CONTAINER)
The CHECK IN SV SINBRONN is located outside the festival site at the football field in Sinbronn, opposite the petrol station. All accreditations, guest lists and passes for bands, traders, members of staff, etc. have to be picked up from here. Those persons accompanying our disabled friends will also receive their free ticket there upon presentation of the handicapped ID of the person they are accompanying.
Google Maps shows the exact location if you search for "SV SINBRONN".
Please note that VIPs also have to purchase a parking ticket.
Opening hours of CHECK IN SV SINBRONN (accreditation / VIP container):
Tuesday until Thursday: 08:00 – 22:00
Friday until Saturday: 10:00 – 22:00
WEAPONS / VIOLENCE
Up until now, SUMMER BREEZE has not experienced any violence – and we would like it to stay that way. Anyone looking for trouble or damaging property, inside the fencing or beyond, will be kicked out! Please have the courage to interfere or inform security if someone starts trouble or harasses women.
Weapons are prohibited on the entire festival site! There should be no need to explain why. The list of prohibited items can be found under PROHIBITIONS / PROHIBITED ITEMS & CONFISCATED ITEMS.
WATER SUPPLY / SHOWERS / TOILETS
Basically all the water that is provided at Summer Breeze is water of drinking quality.
Concert area/Infield:
There will be flushable toilets in the concert area free of charge.
Camping Area:
Camping area-wide there will be mobile toilets free of charge.
There are several Shit 'n' Shower Stations on the campsite.
A Shit 'n' Shower flatrate is available at all shower stations. The flatrate gives you unlimited access to all WC and shower facilities.
Price Shit 'n' Shower-Flatrate: 15,-€
There will be various free water stations where you can fetch fresh water for cooking and washing. In order to guarantee the proper use of the water we have available, we have to ban inflatable pools. The volume of water required to fill them would collapse our water lines. Water pistols are prohibited too.