Travel
ARRIVAL / DEPARTURE – TRAVEL INFO
SUMMER BREEZE TAKES PLACE IN DINKELSBÜHL.
More precisely: in Sinbronn (a district of the large district town of Dinkelsbühl in the district of Ansbach (Middle Franconia, Bavaria)).
Recommended address for navigation:
Illenschwang
91749 Wittelshofen
All relevant contact points of the SUMMER BREEZE are well signposted around Dinkelsbühl.
Opening of the access gates on Tuesday (early arrival day): 10:00 a.m. to 10:00 p.m.
Opening of the access gates on Wednesday: 08:00 a.m. continuously until Sunday.
Early arriving Tuesday campers will be charged a logistics fee of 15,-€ per person.
On Sunday the area has to be cleared by 14 o'clock at the latest.
The day parking lot is open daily from 9 am.
ATTENTION: In order not to add to the arrival traffic, it is unfortunately not possible to leave the campsite by car from Tuesday to Thursday afternoon. To get to Dinkelsbühl you can use the shuttle bus for free. On Saturdays it is not possible to enter the camping area after 18:00. Eventual arriving visitors will be redirected to the day parking lot. In the event of inclement weather or severe weather, we reserve the right to alter access and parking procedures at our best discretion. This is to ensure a smooth process and we ask that you follow the staff in this situation without fail.
All those who wish to arrive a day earlier for SUMMER BREEZE may do so during the 12-hour time window on Tuesday. However, we have to charge those arriving early a contribution towards logistical costs per person, because it wouldn't be fair that the additional costs (personnel, rent, etc.) are carried by all campers, but only those arriving early. On Sunday, the site has to be cleared by 14:00. The daily parking lot will be open from 09:00. We will put up signs around the entire Dinkelsbühl area to guide you to the campsite, parking lots and festival site!

PLEASE NOTE: Due to traffic restrictions, it will be impossible for you to leave the campground by car once you have entered it, from Tuesday until Thursday afternoon. If needed, the shuttle bus will give you a lift to the city centre of Dinkelsbuehl free of charge.
On Saturday it will not be possible to access the campsite by car from 18:00. People arriving by car after that time will be diverted to the day parking lot.
By car
Arrival + departure with public transport
Bus shuttle between the festival site and Dinkelsbühl
Busses
Recommended airports
By Car
We recommend the route via Dinkelsbühl. Follow the signs to the festival ground.
Address of the festival ground:
Illenschwang
91749 Wittelshofen
Arrival + departure with public transport
Check BAHN.DE for all trips to Summer Breeze. We recommend to travel via Ellwangen. If you reach Dinkelsbühl with regular public transport you can transfer to the festival shuttle bus at ZOB (bus station) Schwedenwiese. We recommend the following cities as starting point to Dinkelsbühl: Ellwangen, Ansbach, Crailsheim, Dombühl
Bus shuttle between the festival site and Dinkelsbühl – free of charge during the day
NIGHT SHUTTLE AVAILABE (fee required)
This year the free bus shuttle service between the festival site and the town of Dinkelsbühl will operate at the following times (please click on the picture):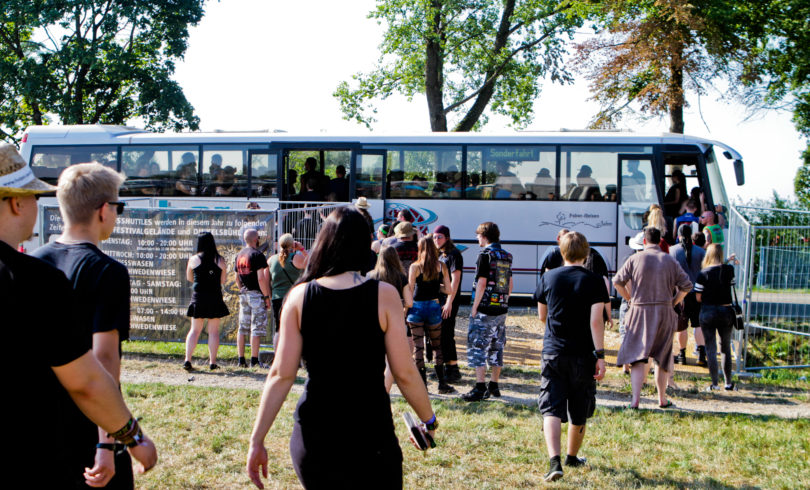 Bus transfers STUTTGART / ULM / NÜRNBERG
Busses MONDIAL – schedules and info: www.mondialevents.de
Recommended airports
NÜRNBERG, STUTTGART, MUNICH or FRANKFURT offer good connections to get to Dinkelsbühl. Check BAHN.DE for all trips to Summer Breeze.
DISABLED PEOPLE / WHEELCHAIRS
SUMMER BREEZE FOR VISITORS WITH DISABILITIES
We are always striving to improve the service for our festival visitors with disabilities and to make the festival as pleasant and above all barrier-free as possible for them!
Severely disabled visitors with a B (need for constant accompaniment), H (helplessness) or BL (blindness) in their ID will receive a free ticket for an accompanying person at the Check In SV Sinbronn. It is important that the disabled visitor has a valid admission ticket and the corresponding severely disabled person's ID with one of the above-mentioned marks.
Visitors with a wheelchair and a severely disabled pass will receive a free ticket for an accompanying person, even if the corresponding markings are not noted on the pass.
We can provide a platform including a disabled toilet for wheelchair users in front of the stages. Visitors with a doctor's certificate stating that they need a seat will also be allowed on the platform if there is capacity. Wheelchair users always have the priority right to a seat.
There are 30 toilets suitable for people with disabilities on the festival ground.
Please feel free to contact our Infopoint at any time with any questions you may have on the plaza.
In case of emergencies we recommend our general emergency number 07366/920 000.
Please write to us at info@summer-breeze.de if you have any questions about the regulations. Together we will find a solution.
For cool storage of special medications, the Medical Center on the premises is at your disposal.
Additional service for wheelchair users
In case of a damaged wheelchair (broken tires, insufficient air, minor repairs, etc.)
the wheelchair service Feix is at your disposal from 09:00 – 13:00.
In urgent emergencies: 015209914402
CAMPING ADD-ON HANDICAPPED CAMPING (limited availability)
Reservations must be made in advance for Handicapped Camping.
We offer a camping add-on for visitors with disabilities and wheelchair users. Here we can offer visitors electricity (e.g. for ventilators, e-rollis etc.) and short distances. In addition to handicapped accessible toilets, there will also be a handicapped accessible shower in the immediate vicinity. Recommended occupancy: 3-4 persons on the 50 square meter plot. Payment is per plot, not per person.
Location: The campsite is located close to the infield and the party area.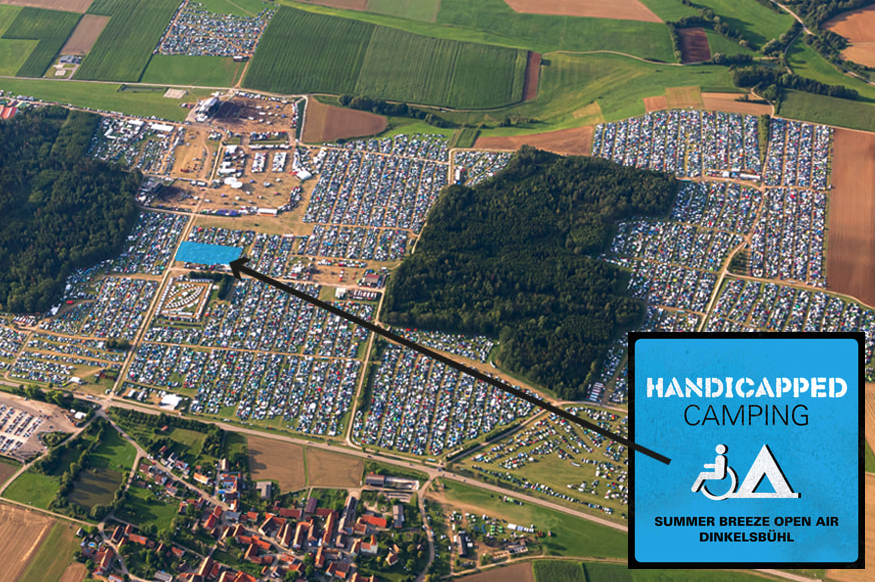 In case of separate arrival, please make sure that all members of your group have their booking confirmation with them. This will ensure that you have access to the corresponding handicapped camping plot.
More information about the Camping Add-On Handicapped Camping is available directly in our store: Please click here!
All information about arrival/departure with public transport can be found HERE.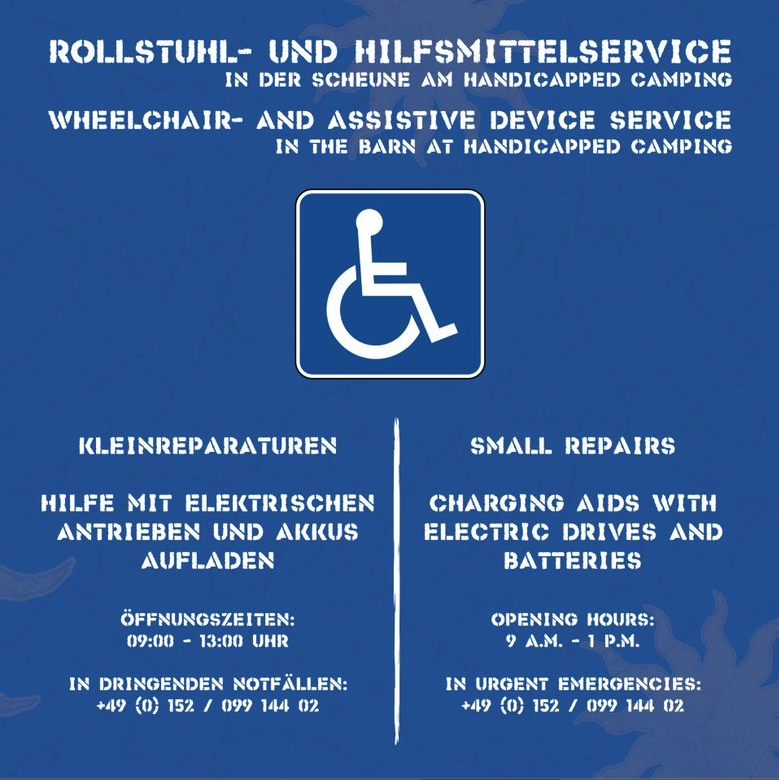 BUS SHUTTLE BETWEEN THE FESTIVAL SITE AND DINKELSBÜHL
The departure times and schedules for the shuttle buses can be found HERE!
CAMPING / PARKING / CAMPING EQUIPMENT / CARS
Regular camping is included in the festival ticket price.
Add-Ons like reserved camping, comfort camping, caravan camping and handicapped camping are available in our shop.
There will be enough parking and camping space available. You may park your car right next to your tent. Camping is not permitted without the purchase of a festival ticket. Therefore, please make use of the official parking and camping areas.
The daily parking area can be found just across the street of the campsite entrance. You may also park your car in that area while camping on the campsite separately, but wish to make sure you can move your car at any time.
Only vehicles with a weight not exceeding 3.5 tons will have access to the campground. This also applies to caravans and mobile homes. Trailers which can only be towed by a tractor or lorry will not be allowed on the campsite. The same goes for tractors and generally all motorized two wheel vehicles as well as quad bikes and trikes. Motorized two-wheelers with internal combustion engine, quads and trikes must be parked in the day parking area. Vehicles with a weight exceeding 3.5 tons can not be parked at SUMMER BREEZE, if you haven't booked caravan camping.
PARKING TICKET:
For SUMMER BREEZE a separate parking ticket must be purchased per vehicle and per trailer. This ticket will only be sold on site. You will receive the parking tickets during the control of your vehicle in the control gates on Black Earth from our parking ticket sellers (purple vest).
Prices:
Parking ticket vehicle 20,-€
Parking ticket trailer 20,-€
GAS CYLINDERS:
Trailers and campers shall not bring gas cylinders exceeding 11kg. Please make sure your equipment is in good working condition and that you use it in an appropriate way. Any misuse may have fatal consequences. We believe this needs no further explanation.
GENERATORS:
If you plan on taking a generator with you onto the site, please make sure it is in good working condition and that it is not leaking oil or fuel. A maximum of 20 litres of fuel in an appropriate canister are allowed per vehicle. We trust you will handle this matter in an appropriate way and that it needs no further explanation or discussion. From 1 a.m., all aggregates need to be turned off for nighttime peace. There is a ban on generators in the GREEN CAMPING area!
Camping outside the official camping area is prohibited. Doing so will be fined!

DISTANCES ON THE CAMPGROUND: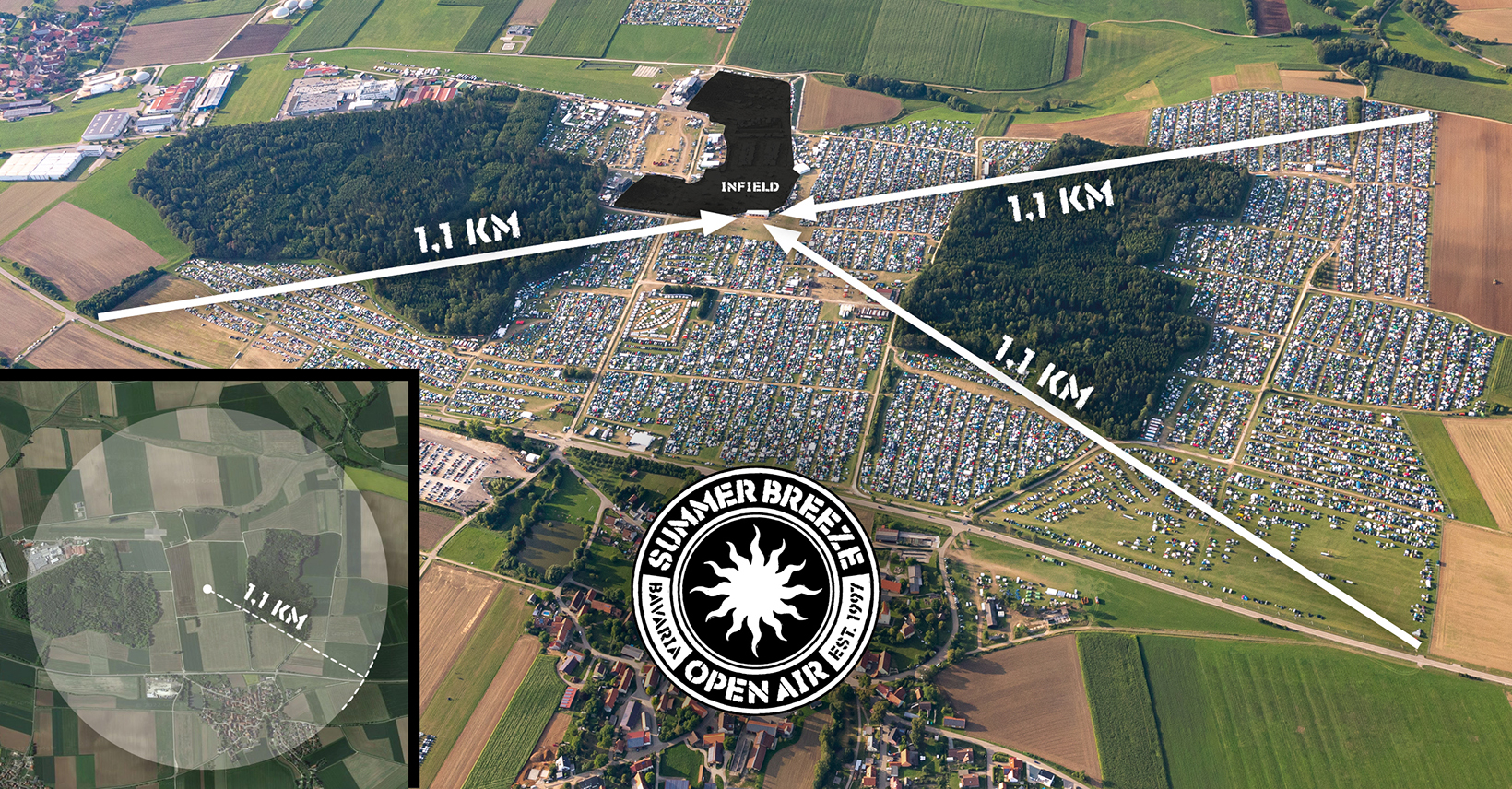 ARRIVAL IN GROUPS / SAVING CAMPING SPACE FOR FRIENDS
Please follow the instructions of our personnel, so the filling of the saved space hopefully works quickly and without problems.
Ideally you should always keep right with your group when arriving (even before the security corridors); try to use the corridors on the right as well, and stay right when driving onto the campsite. (Our tip: Meet at a parking on the Autobahn before the exit to Dinkelsbühl and then drive together as far as possible.)
Additional advice for drivers of large vehicles (e.g. mobile homes) or cars with trailers (including caravans):
Please also try to keep right, as the corridors on the far right are wider and will be easier for you to pass through.
Motorcyclists are also asked to use the corridors on the right, as they are closer to the motorcycle parking lot.
BAN ON GLASS
There is a ban of glass at Summer Breeze. We will strictly check each car entering the site. Our security will also check the camping grounds during the festival days. Please have understanding and avoid bringing any kind of glass containers.
This includes all food and drink containers made of glass, regardless of the use they are given (e.g. tobacco in a preserving jar). Due to the high accident and fire hazard, oil (kerosene/paraffin) lamps are prohibited too! Perfume flacons, medicine bottles and shishas are allowed.
Best thing to do is to pour all liquids into plastic containers. Please take this issue seriously – otherwise we will face massive problems in getting access to appropriate camping grounds in the future!
PARKING TICKET
In order to park a motor vehicle on the campsite, a parking ticket must be purchased per vehicle and per trailer. This ticket is only sold on site. Please note basic info on CAMPING / PARKING / CAMPAIGN EQUIPMENT / VEHICLES.
Prices:
Parking ticket vehicle 20,-€ (full festival) / 10,-€ (day ticket)
Parking ticket trailer 20,-€
There is also a charge to park on a separate day parking lot.
The above applies to all motor vehicles with an internal combustion engine (i.e. cars, motorcycles, caravans, etc.).
Those arriving on Tuesday must pay an extra 10 Euro contribution towards logistical costs per person. You can purchase your parking tickets from our parking ticket sales team, who will be located between the festival bracelet collection point and the security control corridors. That means, first you go to exchange your ticket for a festival bracelet and then you buy the parking ticket for your vehicle at the entrance to the security control corridors.
TAXI RANK
The taxi rank is located opposite of Black Earth (Car controls / Daily parking lot) – also included in our festival map.
CHECK IN SV SINBRONN (incl. VIP CONTAINER)
The CHECK IN SV SINBRONN is located outside the festival site at the football field in Sinbronn, opposite the petrol station. All accreditations, guest lists and passes for bands, traders, members of staff, etc. have to be picked up from here. Those persons accompanying our disabled friends will also receive their free ticket there upon presentation of the handicapped ID of the person they are accompanying.
Google Maps shows the exact location if you search for "SV SINBRONN".
Please note that VIPs also have to purchase a parking ticket.
Opening hours of CHECK IN SV SINBRONN (accreditation / VIP container):
Tuesday until Thursday: 08:00 – 22:00
Friday until Saturday: 10:00 – 22:00